The current state of some roads in Indian cities; derelict, poorly designed, and often under construction, means that the streets are not as safe as they could be. About one in every ten traffic-related fatalities is a pedestrian, and in 2016, nearly 15,800 pedestrians were killed in India. Many articles have shown that both men and women alike feel unsafe after dark in public spaces. A recent viral social media post describing an incident where two women were attacked with a knife by a motorcyclist on 12th Main Road, Indiranagar, Bengaluru sent shockwaves through the city. More shocking, is that the police have no leads as to who the attacker was, and the lack of CCTV cameras meant there were no leads. Another recent survey done by Indian Institute of Public Health – Hyderabad, found that children who cycled to school were more likely to be injured compared with children who took motorised transport.
It can be implied that urban space is not neutral. Space, dependent on its design and use, can create fear, restrict movement, and limit behaviour. Lack of movement and comfort within public space is a form of social exclusion. Men and women experience urban environments in radically different ways. Several factors impact each gender's ability to move freely in public space. Men generally have better access to public space and feel more comfortable and relaxed in public spaces, as compared to women. Women have to manufacture a purpose to legitimately access public space. Women also often choose the safest and most comfortable route even though it may take much longer to get to their destination. We do not see women resting in public alone, and our public spaces in India are not considered safe for any user. Constant vigilance, fear and actual experience of aggression in the public realm have a profound impact on women's lifestyle, mental and physical wellbeing. However, it has also been proven that space can also create a sense of safety and comfort, and can serve to discourage violence of any kind. Therefore, planning around safety should always involve and consider all genders, and all users of space. Prioritising street design for those who are most vulnerable means that streets become safer, more enjoyable, and beautiful for all those using the street. Any urban implementation must be inclusive, and this holds true for streets. Our goal, when creating Tender S.U.R.E, was to put an end to the cyclical disruptive nature of Indian roads by developing design guidelines for streets, and detailing the logistical procurement process of implementing a Tender S.U.R.E road.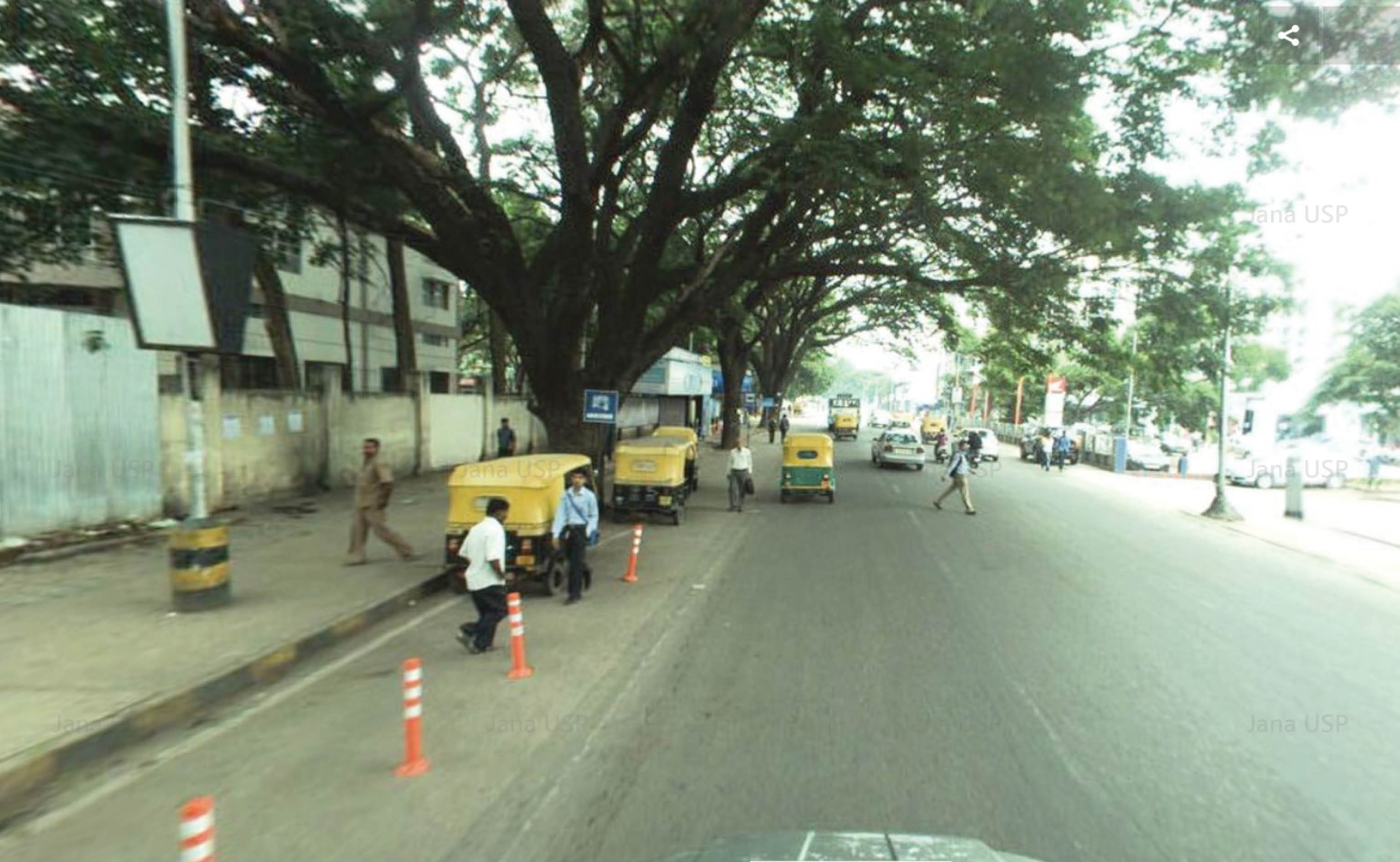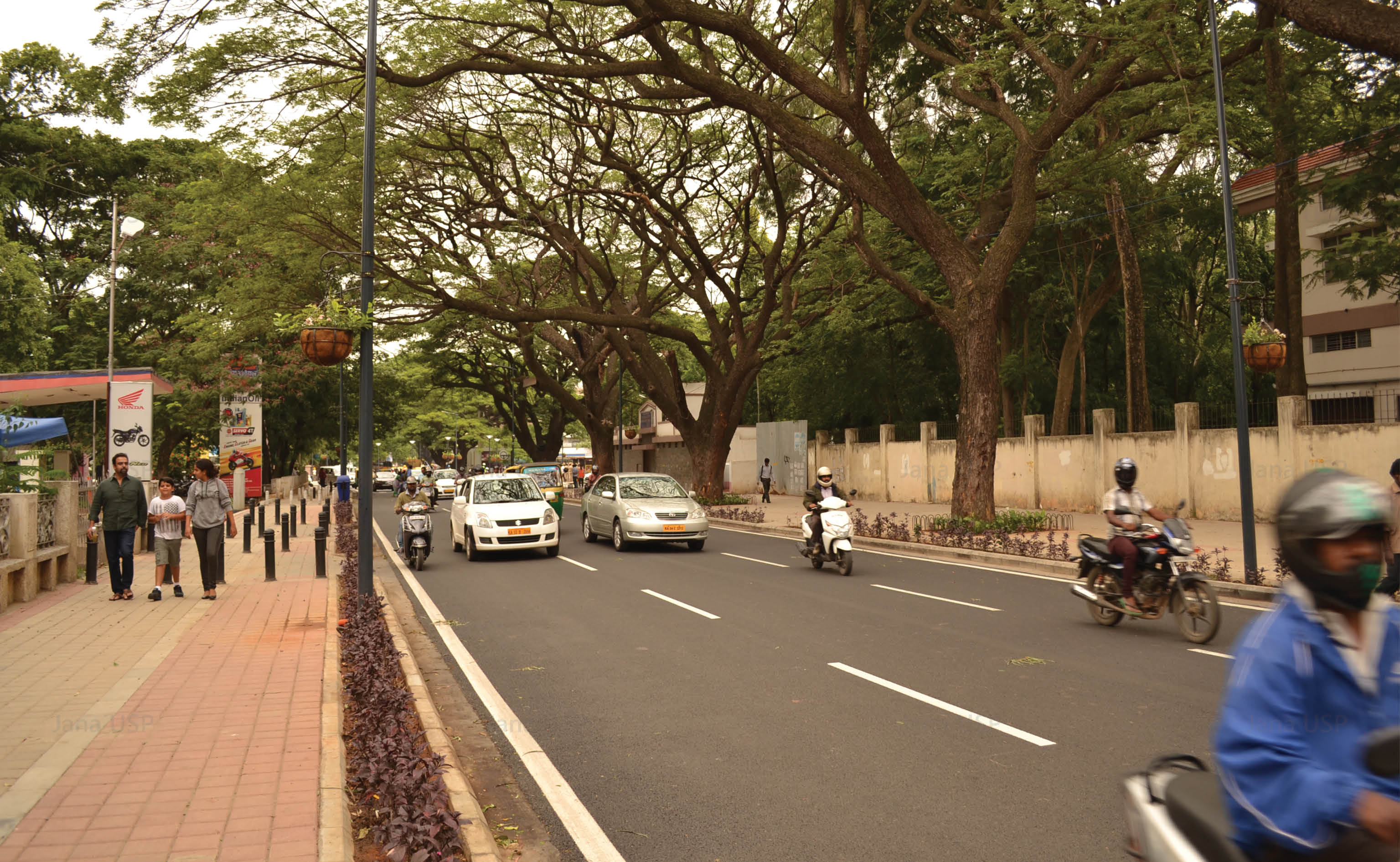 Gendered spaces and Travel Patterns
Gendered spaces cater to one gender over another, where different genders occupy the space differently and alter their behaviours to suit the space. We have seen women as the occupiers of the private, domestic space previously. The degree of gendered-ness of a space is dependent on several physical and architectural factors. This can include roads with potholes, and debris from being dug up, as well as being poorly lit, without adequate right of way. Design of public space must adhere to removing the gendered aspects of space and create equitable environments for all users.
Travel is a fundamental aspect of urban living. Being able to commute comfortably at all times and in any situation is an indicator of power. Public transport allows easy access to opportunity, resources, and information. In India our travel infrastructure is largely at the hands of local governments, and design is bound by bureaucratic procedures and due process. The neutrality of the user of space is taken for granted in the design process, with disadvantaged groups forgotten, and not catered to. Predominantly, public space has been designed for able-bodied men. This group of men have commonly dominated our chai stalls, train stations, side walks, and other public transport. They are free to loiter and exist as they are within space. Conversely, women are often seen travelling with their children, the elderly, or their male companions. When women travel alone, their demeanour, posture, and ensemble change situationally. They are hyper aware of their surroundings, and their sense of perceived safety is increasingly honed as they spend more time within public space.
Gendered public spaces can add to the perceived sense of safety in an area, and while women may feel safer in the area during the day, they may not feel so at night. Women's daily mobility patterns are often more complex than men. Women tend to make more combined and frequent trips than men, who make fewer and more direct daily trips, for a singular purpose. Travel patterns are gendered, in that commuting for women is based on their perceived sense of safety. While attending to their duties, women also bear the brunt of guarding themselves. A woman is more likely to choose the route that is well-lit, with enough social and CCTV surveillance available between their destinations. This may be despite the fact that there are other quicker routes to their destination that are perceived as more unsafe. Men on the other hand, are more likely to choose the more direct route towards their destination, without placing as much emphasis on safety. It seems as though in India, women's safety comes at the cost of their freedom of movement.
The need for inclusively designed safe streets
It is imperative to look at the root of the problem and examine why there is a major lack of safety for women and children on Indian streets. Our roads are often poorly planned, without networked connectivity for non-motorised transport and little to no public transport networks integrated into these routes. Disconnection of road networks signifies a need for pedestrian and cycle pathways that currently ignore the mobility needs of above 30% of the Indian population. Our roads currently undergo a constant cycle of building up and then digging down, due to a lack of coordination amongst utility agencies. This is exacerbated by poor quality assurance on execution, and no diligent maintenance resulting in roads having a short life cycle. This cycle of build, neglect, and rebuild consequently results in unsafe space surrounding streets, where pedestrians and cyclists have to constantly be wary and fearful of any slight misstep that could result in casualty.
Those who take their children to school every day must combat the physical conditions of the roads they walk on, remaining vigilant in their own steps as well as the steps their children take. It is also not uncommon to see children walking to school without footwear, leaving them vulnerable to cuts, bruises and infections. The current state of our roads sees many objects scattered around that are harmful to any one walking, but especially those who walk without footwear. There are major health implications as walking barefoot can lead to problems of infection due to thorn pricks or nails lying on the road. If our roads were kept structurally safe and sound, it would significantly reduce the amount of litter, defecation, and therefore, threat of infection for these children.
When streets are designed for the privileged, able-bodied man who has access to motorised transport and not the rest of the population, it leaves significant gaps in street design. Every day we see potholes in every road, pipes and rods sticking out, pavements and sidewalks with slabs missing and precariously positioned. Navigating our streets is often perilous and dangerous if our attention is even momentarily diverted. While there is more to be done to help women and children feel safer in public spaces, in terms of changing of societal mind-sets and cultural ideologies, Tender S.U.R.E roads ensure that street design that is made inclusive, and therefore, can alleviate some tensions and disparities within public spaces.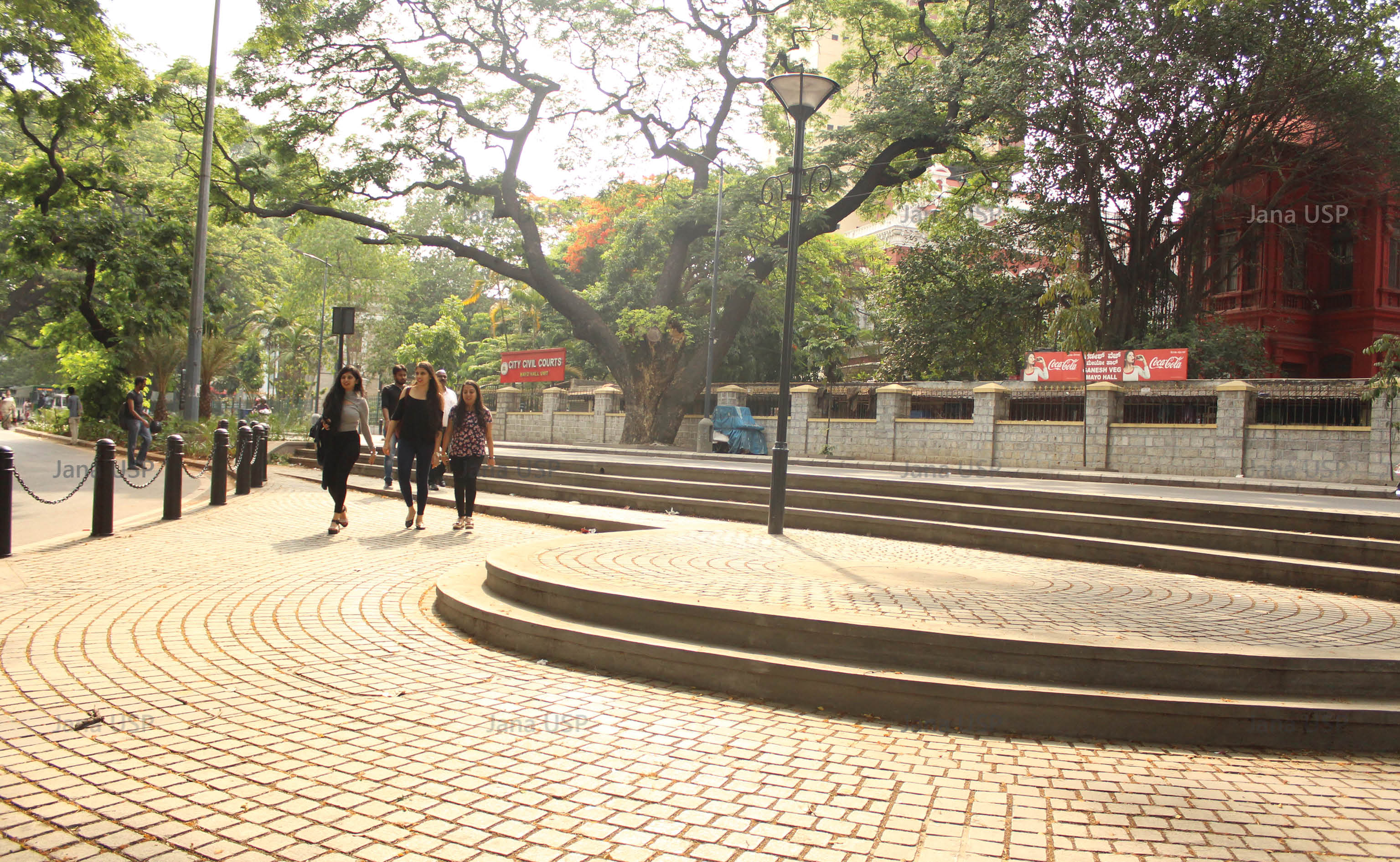 Tender S.U.R.E roads and how they improve safety
Tender Sure roads promote safety for all, including women, children, and the elderly with safe intersections, refuge areas, visible and well-lit footpaths and provisions for surveillance. This results in reduced accidents and equitable access to the city's streetscape which in turn aids in the reduction of the gender gap in the work force – as studies show that women actively participate in the workforce when they have safe access to public transport.
Tender S.U.R.E roads also promote sustainable modes of transport, which ensures healthy lives and promotes well-being for all ages, builds resilient infrastructure and promotes inclusive and sustainable industrialisation, as well as making cities safe, inclusive, resilient, and sustainable –all in line with the United Nations' development goals. This focus on sustainability also increases resilience against the climate crisis, by providing a variable and convenient option for people to use non-motorised transport (NMT), reducing the number of private vehicles on the road, and improving air quality over time.
Tender S.U.R.E also focuses on the collaboration and communication between municipality, utility agencies, traffic police, and other stakeholders. This is to achieve a cohesive street network. In addition, the coordination amongst utility agencies is a must, as Tender S.U.R.E ensures the organisation or underground utilities contained within the footpath, with inspection chambers at regular intervals, thus disallowing the need to constantly cut and dig up these roads. This improves safety, reduces traffic and diversions, and ensures the constant comfort of those using Tender S.U.R.E roads.
Some Design Principles to Improve Safety:
We would argue that it is important to start small. These ideas for safe streets are not new. These design principles are common to learn about in the urban environment. However, each implementation of a Tender S.U.R.E road is one less road where users have to think twice about their safety due to the physical conditions of the road.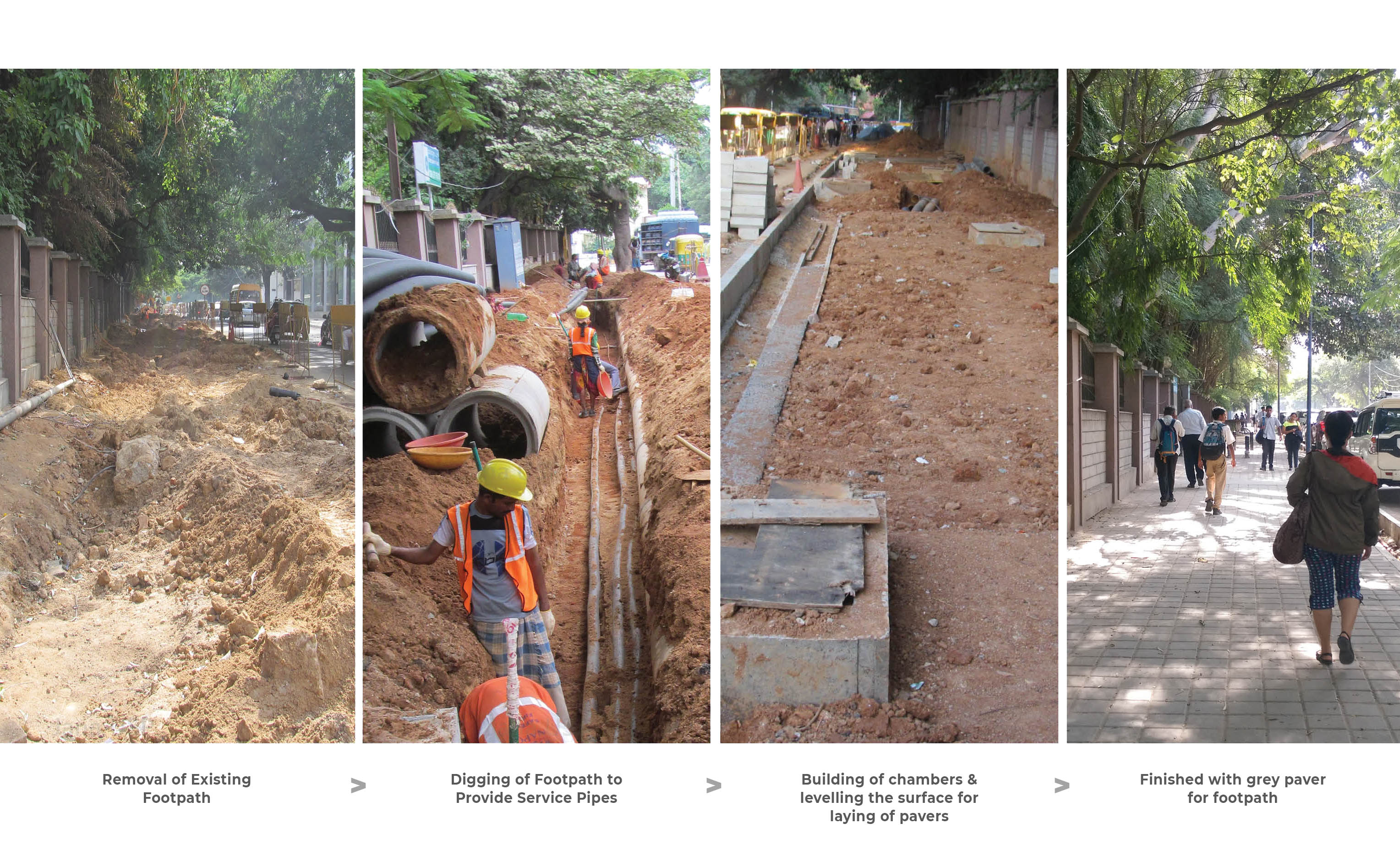 Here are some design principles featured in Tender S.U.R.E that would provide and prioritise increased pedestrian safety:
Safe crossings, that include adequate refuge areas for pedestrians that protect them from vehicular traffic

This is helpful for women who travel with their young children to school and require sufficient space to keep away from traffic and remain out of the way of oncoming traffic

Good lighting, at equitable distances, and suitable for the category of road

A well-lit road adds to an environment's perceived safety. People are more likely to use the road on their commute, and it deters criminal activity.

Surveillance and CCTV, keeping virtual eyes on the street and to keep track of any criminal or anti-social behaviour

This allows for more safety nets to be given to residential communities in an area, as if any criminal activity does occur, there is some amount of accountability and action that can be taken.

Legible signage and way-finding, to prevent people from getting lost, as well as building up a sense of place to an area

This prevents causing confusion for users of the road, and provides children better sense of directions, allowing them to know where they are at all times in relation to their home/school

Universal accessibility, to ensure all public spaces and roads are inclusive for any and all users, no matter age, disability, race, gender, class.

Providing for all users of a space will mean more users of public spaces, more business occurring, more activity on the streets, and can create a better sense of community

Activating liminal space and conflict zones as public space, with seating, vending, and other public activities

Putting more eyes on the street and encouraging people to stay and enjoy a space creates a sense of community awareness for any criminal or anti-social behaviour

Accommodating for an equitable division of the right of way, with uniform travel lanes promoting lane discipline and smooth movement of NMT.

This allows for safe and designated areas for each type of user of the road, and clearly separates motorised transport from non-motorised transport.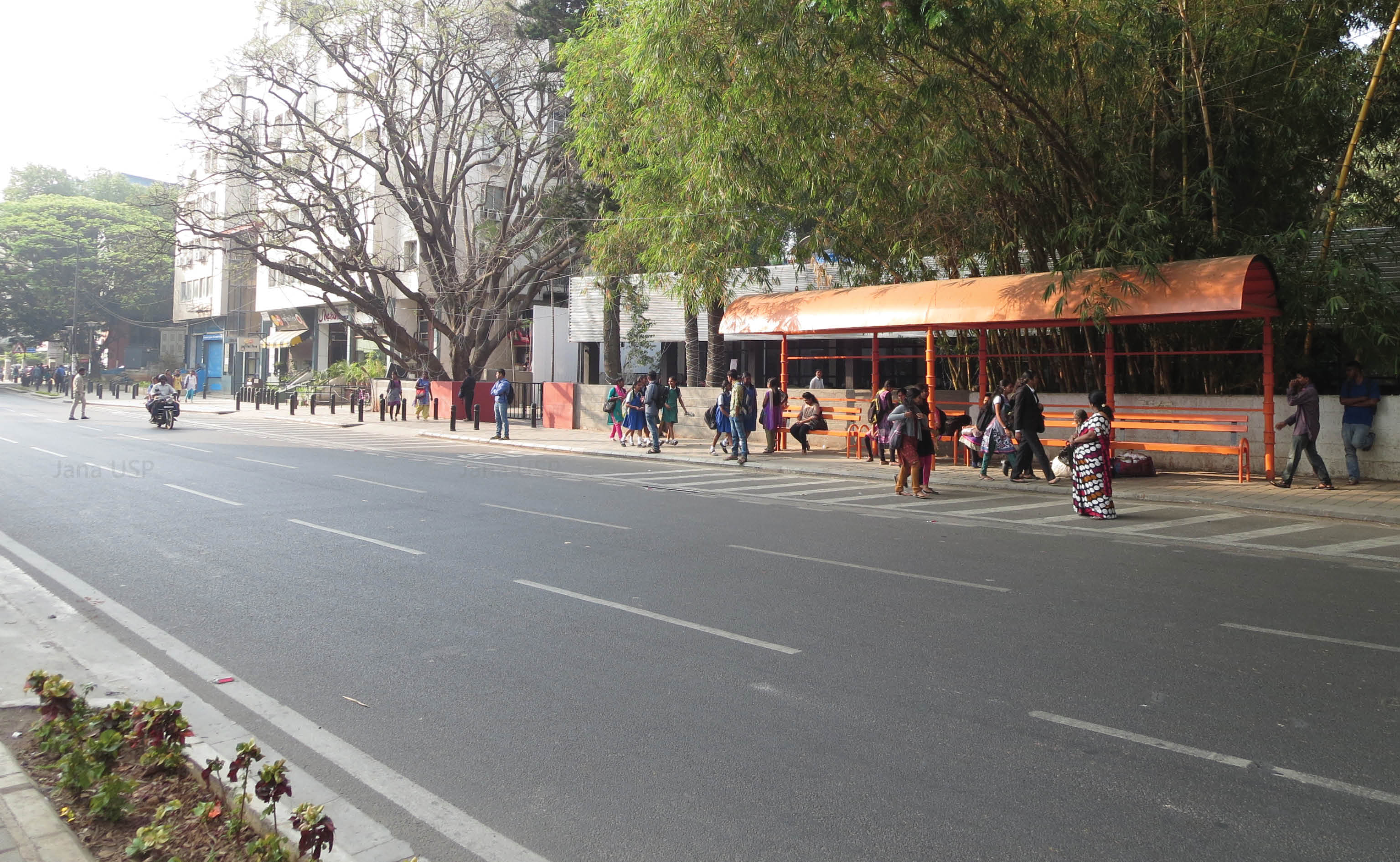 Where we fall short…
Inclusive design principles are key in making change to gendered public spaces. A Tender S.U.R.E road might alleviate some of the pressures women face when occupying public space. However, true change must occur throughout all stages of the infrastructural process. Design guidelines are only a part of the change. These Tender S.U.R.E roads must be implemented in the way they were proposed. With the current implementation of the Bangalore Smart City, we are seeing the poor implementation of Tender S.U.R.E roads all around the city. The roads that we proposed to be extremely safe for all users of the road, are currently under construction, entirely dug up, and increasingly unsafe for all users of the space. These uncoordinated and messy roads create bottleneck traffic, impede on sidewalk space for pedestrians, and result in longer journey times. The lack of communication between municipality and utility agents, as well as the delays caused by COVID-19, have added to the danger of walking on these under construction Tender S.U.R.E roads. This is ironic, as this is exactly the process we wanted to avoid when we proposed the implementation of these roads. While these roads are under construction, we are seeing issues of gendered spaces fit within them, increasing safety risks for everyone that uses it, with a disproportionate amount of women being impacted by this.
The societal norms that underpin gender roles and gendered spaces must be unlearned and overcome. While we are taking one step in the right direction, and thinking of all users of space when it comes to the design process, real change will only come when we see the process through to implementation as well. We could also stand to see more women and people from disadvantaged groups in positions of power, making decisions that will benefit all members of society. We will see more meaningful change in our urban infrastructure when money does not purely dictate every single political and bureaucratic action, but rather we see actions driven by the collective good for the community. We have a long way to go, and an indescribable amount to learn, but here at Jana Urban Space, we are committed to improving the equitable use of space through constant learning and open discussion.
Do you have any thoughts on this? Let us know! We'd love to engage in constructive communication, and learn from you all. We hope to be a key part of change in Indian cities with the gradual implementation of Tender S.U.R.E roads. Keep up with our journey on our website, Instagram, and LinkedIn.
This article was supplemented with information from the thesis of our talented interns, Pratiksha Parad, please reach out if you would like further information.